Accountants in Maidstone – Supporting Your Business
We are committed to helping businesses come through the current challenges we are all facing. Please see our Blog and Covid-19 Resources for help.
As Accountants, we see our role as more than just number crunchers, we see ourselves as your trusted partners in business. We are here to offer help and advice whatever the world throws at us.
Please take some time to read our Client Case Studies and Testimonials We would love to discuss how we can help your business grow and achieve your ambitions for it.
Your business means the world to us and we are here to help make sure your accounts and tax are taken care of so you can get on with running it.
Call Accsys Accountants, Kent's Leading Accountants: Tel: 01622 671 835
The prosperity checklist gives you the solution to the top 12 problems that every business owner faces.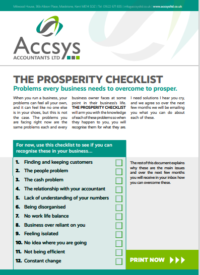 Accsys Latest News & Updates
Increasingly, employers are asking employees to [...]
Doing business in Maidstone, Kent.
We have been based in Maidstone from, day 1, first at Turkey Mill Business Park, Maidstone, Kent and now at our offices in Albion Place, Maidstone, Kent.
Not only is Maidstone the county town of Kent but it is also a great place to do business. With easy access to London via the train network and great motorway links (Well at least most of the time), Maidstone is in good geographical location.
There are some excellent businesses located in Maidstone and Kent and we are proud to have served them over the last 10 years and look forward to the next 10.