We pride ourselves in being 100% Xero base accountants; we know how good it is for your business, and now we want to show you.
Xero is an online accounting system that enables small to medium-sized businesses to collaborate with their team and accountants in real-time.You can automatically import your bank statement data, you can reconcile your data simply and quickly, and most importantly, you can have an accurate real-time view of the health of your business.The rest of the world is online, why shouldn't your accounting system be as well?
If you are sick and tired of complicated old fashioned accounting systems, then you should seriously consider whether Xero is right for you.
To learn more phone Will Wood on 01622 671 835 or send me an email Will@accsysltd.co.uk.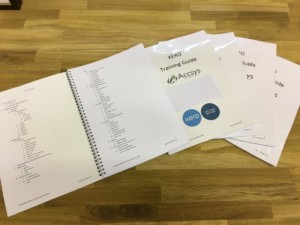 Course Manual
All courses, group or bespoke benefit from our Colour Course Manual which includes tops tips and screenshots. This handy reference guide is 100 pages long, fully illustrated and is yours to keep.
Free 30 days support
All courses include a 30day FREE support for your Xero.