To get the most out of Xero and to get up to speed quickly we have designed a number of training options.
Group Xero Training Courses
Join like-minded individuals and come and learn about the power of Xero.
Click the links below to book or find out more.
Bespoke Xero Training Courses
We can tailor training packages to suit your business. This training can be one to one or group – offsite or on-site. On-site courses are available for Kent Businesses and those further afield.
Click the links below to book or find out more.
Contents of the Bespoke Courses Can Include:
Introduction to Xero: Layout and Features
Data entry
Reporting: Management Reporting and VAT
Settings: How to set up for your business and tailored Xero using Settings
Invoicing: How to set up invoices and issue them
Budgeting
Tracking and Departments: tailored to suit your business<
Journals
How to get accurate management accounts
In addition, we can work on your companies live data and work with you to make the integration as seemingly as possible.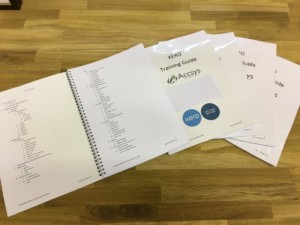 Course Manual
All courses, group or bespoke benefit from our Colour Course Manual which includes tops tips and screenshots. This handy reference guide is 100 pages long, fully illustrated and is yours to keep.
Free 30 days support
All courses include a 30day FREE support for your Xero.
Recent Xero Training Case Studies
William Wood
2019-07-04T13:28:06+01:00

Bespoke Xero Training: Canterbury, Kent – County Music Limited We recently supplied a bespoke  Xero Training Course for Lee Macintosh owner of the Music Shop County Music, based in Canterbury, Kent, who, spurred [...]
Some comments from previous attendees
A very informative course, I would not hesitate to attend more courses; a relaxed atmosphere and a great way to learn Xero.
A very good demonstration of the power of Xero and its capabilities. Very well presented. Much more confident now.
Xero is clearly an easy package to follow and the training has really helped me to understand the package. Thanks WIll.
I had a a great day today, the course was helpful and informative and a great way to start my Xero Journey.